Mohs Reconstruction Atlanta
Mohs surgery is effective for many facial skin cancers, but in some cases also involves plastic surgery for wound closure
What is Mohs Reconstruction?
Mohs surgery is an excisional procedure used to treat skin cancer, where the dermatologic surgeon removes cancerous skin cells while preserving the healthy skin cells to a very fine degree. Mohs reconstruction is a corrective procedure that restores areas that have been directly impacted by Mohs surgery. Mohs has a high cure rate relative to other cancer treatments. When Mohs by the dermatologist is done in tandem by a skilled plastic surgeon like Dr. Patel, the patient can receive aesthetically pleasing results as well.
Dr. Patel can perform Mohs reconstruction on numerous areas such as the face, nose, eyelids, and ears. Please contact us to learn more about how Mohs reconstruction done in conjunction with Mohs surgery can help you get rid of skin cancer while optimizing your appearance.
Mohs Reconstruction consultation
Dr. Patel is well-versed in a wide range of techniques to help correct defects acquired from Mohs surgery.
In coordination with your Mohs dermatologist, Dr. Patel can perform your reconstruction on the same day. However, depending on the complexity of the wound, the reconstruction may require being in a dressing for 1–2 days before you undergo the procedure.
Dr. Patel frequently performs Mohs nasal reconstruction. In more severe cases where you are missing not only skin but also cartilage or lining of the inside of your nose, it may require two or more operations. Dr. Patel is fully capable of reconstructing your nose safely and with an aesthetically pleasing result, all while maintaining adequate function of your nasal airway.
With his training as an oculoplastic surgeon, Dr. Patel is also comfortable performing complex eyelid reconstruction. Sometimes, the eyelid can be put back together in one surgery with creative flap geometry designs. In other cases, it may require a staged approach involving two or more surgeries spaced apart by a few weeks.
Mohs Reconstruction consultation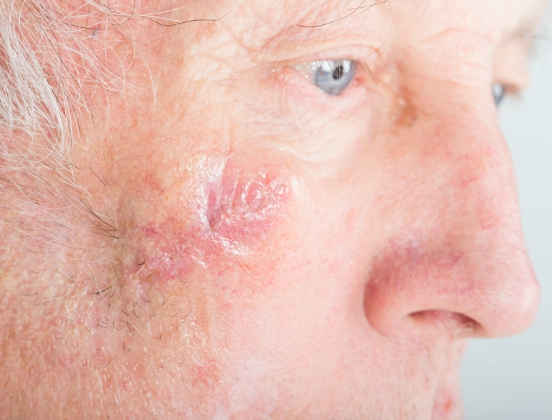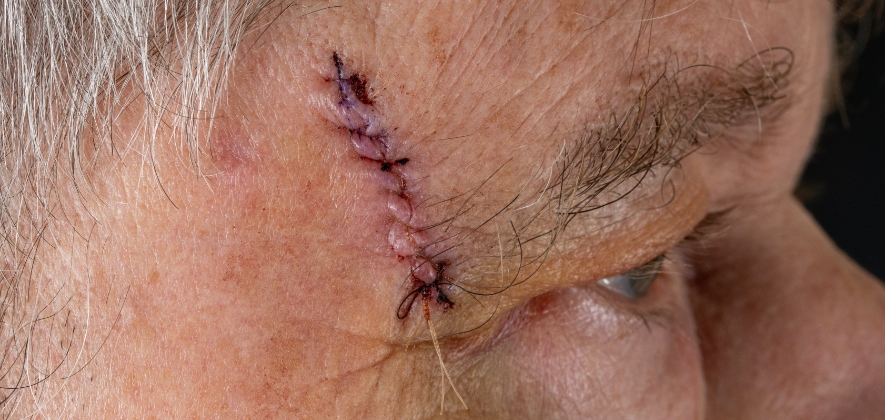 What to expect after Mohs Reconstruction
After Mohs reconstruction, your wounds need time to heal naturally and they must not be touched except for prescribed daily maintenance. Avoid strenuous activity as much as possible. If you experience intense swelling, you may apply cool compresses with Dr. Patel's approval, but usually avoid direct or indirect applications of ice, as this may impair healing of any skin graft or flap he performs.
You may experience some pain and discomfort right after the surgery, but you can take acetaminophen (Tylenol), alternating with nonsteroidal anti-inflammatory drugs (NSAIDs, such as Aleve, Motrin, Ibuprofen, or Advil), to help you feel better. You will need to make follow-up visits for certain milestones such as suture removal (around 5–10 days after surgery). It can take up to three (3) months for your wound to fully heal, but if you follow these guidelines and Dr. Patel's advice, your aftercare should proceed routinely.
Best candidates for Mohs Reconstruction
You're a good candidate for Mohs reconstruction if you:
Yes, you need to be eligible for Mohs surgery to request Mohs reconstruction. However, if you are not a skin cancer patient, you can contact us for consultation and elect for our other procedures to get the results you are seeking.
You need to get diagnosed by your dermatologist first and he or she will recommend the primary Mohs surgeon for your treatment. You can contact Dr. Patel if your dermatologic surgeon determines that you will need Mohs reconstruction as well.
This depends on the diagnoses from your dermatologist and primary surgeon. If your Mohs surgery is not extensive, there is a good chance that both procedures can take place in one day.